Andia Dragoj
Profil
Andia Dragoj was born in Tirana on 20 December 1981. In 2001 he left Albania to complete his studies in the neighboring state of Italy. In 2008 he completed studies at University of "La Sapienza" and she is graduated in Law Sciences, she hs completed the First Level Master in "Peace Building Management" at Pontifica Facolta Teologica "San Bonaventura" as well as Second Level Master's degree in "Peace Building Management" In the Pontifical Faculty of Theology of "San Bonaventura".
In 2009 he started working as an Lawer Assistant , at the Legal Studio Michele Boneti & Partners in Rome until 2011. In 2011 he returned to Albania to give her experience in the field of Advocacy and  has founded the Legal Studio "Morandini E Associati" where she has works as a lawyer.
Since the first years of her return to Albania she has been engaged and worked in various positions in non profit organizations such as: Project Coordinator at  Foundation "Mary Ward Loreto", Coordinator and Legal Consultant for Women's Rights at  Foundation "Mary Ward Loreto", Trainer for Human Rights; Women's rights; Property Rights with respect to Women; The rights of Children with limited access, etc. at  Foundation "Mary Ward Loreto". Founder and Legal Consultant at Foundation "Drita". Founder and Legal Assistant in connection in various projects such as : Association  "Njesia Shqiptare e Bioetikes", Center; "Istituti Mesdhetar per Zhvillimin e Burimeve Njerezore", Center: "Tek Ura"; Association "Unione Italiani nel Mondo "Uim Shqiperia", Association"Associazione di Promozione Sociale Fyouture"; "Shoqata e Botuesve te Tekseve Shkollore", "Shoqata Shqiptare e Mireqenies Sociale" , Center: "Irena Kraja".
Andia Dragoj is a Lawyer, near to National Chamber of Advocates Tirana since 2011.

Asetila Köstinger
Profil
Asetila Köstinger is a positive, energetic and self-motivated Austrian SME consultant and entrepreneur with significant international experience. 
Education in economics and international business and a passionate practitioner of SME competitiveness. 
Multilingual Professional Speaker &Trainer with over 12 years living and working overseas. 
Also sound knowledge in international project development, EUROPAID and other donors.

Daniel Guce
Daniel Guce has studied Political Science at the University of Tirana, Master of Science in Foreign Policy and Diplomacy, as well as Professional Master in Business Administration. Mr. Guce has worked as an Assistant Professor at the Department of Political and Administrative Sciences at Albanian University in 2011-2013. Advisor to the Minister of Economic Development, Trade and Entrepreneurship in 2013-2014, Director of SME and Exports to the Albanian Investment Development Agency 2014-2016. Currently he is the Director of Certification in the Gambling Supervision Authority.
Mr. Guce has been part of some JICA training programs in Japan, the Center for International Development – Harvard Kennedy School, OECD, UNDP, Konrad-Adenauer-Stifftung, etc.
In cooperation with governmental institutions and international donors Mr. Guce has contributed to the drafting of documents or studies on the sustainable development of enterprises in the Republic of Albania.

Dorina Laçi
Profil
Dorina Laçi has been graduated from the Faculty of Economics at the University of Tirana and holds a Master degree in Marketing from the European University of Tirana.
Dorina has a long experience in marketing and PR. She has started her career as a Marketing Specialist in the banking sector in 2005 and in the period 2011-2014 has run a private business. Mrs. Laci since 2014 is part of The HeadHunter Group and leads the Marketing & PR sector. She has been part of several national and international training programs in the field of marketing.
Mrs. Laci with her several years of experience, helps with her marketing consulting mainly new businesses focusing on communications and public relations programs that will enhance the Company's image and position within the marketplace and the general public, and facilitate internal and External communication; and, all corporate marketing, communications and public relations activities and materials including publications, media relations, customer acquisition and so forth.

Edona Bilali
General Manager and Co-owner of AZ Consulting ltd
Mrs. Bilali has been graduated at the Faculty of Economics, University of Tirana, Department of Business Administration, Management profile. She has a Master degree in Marketing. After an one year post-graduate specialization, by the Ministry of Finance, she holds the "Audit" title. Mrs. Bilali has attended various international training and qualifications in: Leadership, Human Resources, Planning, Negotiation, Business Sustainability, Media & PR, Project Management, etc. Since 2010, she has been teaching at the Faculty of Economics, Management Department, University of Tirana and UAMD.
Mrs. Bilali has worked in the Ministry of Finance at the Human Resources Department, getting familiar with the issues and relevant legislation of the Public Sector. Later she worked at InfoSoft Group, with European and Asian partners, where she took the experience and expertise of adaptation, negotiation and the flexibility in a business relations. Mrs. Bilali has given consultancy and has collaborated with several national and international companies, in many projects as a business consultant. Starting from December 2013 Mrs. Bilali is the General Manager and Co-owner of AZ Consulting ltd, the leading consultancy company in the quality management systems.

Elida Motro
Elida Motro Iljazi is CEO and founder of the company "EMI Coaching and Consulting", a firm that equips individuals and teams in the labor market with human instruments and mechanisms to improve work performance and balance in life. For this role, Elida brings more than 25 years of experience in training, consulting, Human Resources Direction, and management experience across a wide range of industries, organizations, and sectors. Elida's expertise includes a variety of topics, with a special focus on strategic programs in business development and people's performance management.
In addition to years of direct management of both businesses created by it, and USAID, DWHH, LIDIA foundation, etc. Elida served as Director of the Department of Human Resources and Corporate Responsibility at an International Microfinance Institution. In this role, Elida designed and directed all aspects of the company's expansion of 80 employees to 320 in a space of five consecutive years, a very useful experience in developing and consulting for managers and business leaders, focusing on the return of Investment in people and in human resources professionals.
Elida also shares her experience as a Foreign Professor at the University of Tirana, Faculty of Economics. For the Marketing Department at this University, she taught International Business, Market Research, and Marketing Services.
Elida offers human resource development services through the module created by the PTTP Training Program in the field of high-level strategic management of staff, selection and development of senior and mid-term staffing and resource-specific programs Human resources such as developing interviewing skills, staff retention, career consulting, ROI, return on human resources investment, communication, and increasing the effectiveness of workforce, and increasing diversity.
Elida is a dynamic public lecturer and has spoken at national and international conferences on business and human resource management issues.
Elida has obtained a Certificate from Cornell University in New York for Human Resource Studies, holds a B.A. Degree from the University of Tirana, Faculty of Philology, Foreign Languages Branch. She is also a graduate in Marketing at the Economic University of Tirana. She offers its services voluntarily to the SOS villages as a member of the Assembly and supports the Youth Workers Training Program for the Labor Market (PTTP) that reside in state-run homes.

Erjon Curraj
Profil
Mr. Curraj has been graduated at postgraduate level in Information and Telecommunication Technology, currently attends doctoral studies in the field of Management, Innovation and Entrepreneurship. He is the founder of Tech360, a start-up that provides innovative solutions to management, organization and decision making in different ventures. Mr. Curraj is a business consultant in the field of Information Technology, Social Innovation and Entrepreneurship for the European University of Tirana, Tirana Professional College, Headhunter and various SMEs in Albania and South East Europe. As part of his doctoral studies, he has recently completed a research period at the University of Technology in Lappeenranta, Finland, focusing on digitization and SMEs in Albania. Mr. Curraj has a professional experience of more than 10 years in strategic business development as well as in project management. He has a wide network of collaborators in the region in the field of ICT, innovation and entrepreneurship.

Ermela Kripa
Profil
Ermela Kripa received the Associate Professor at the Agricultural University of Tirana in December 2015 and holds a Ph.D. in Advanced Finance Science at the University of Tirana at the Faculty of Economics. Ermela has completed the Master's degree at the Roma Tre University in Italy and her Bachelor's degree in Finance and at the Roma Tre University. Mrs. Kripa has published scientific articles in renowned scientific journals at home and abroad and has participated in various international conferences. She has a 10-year teaching experience already. Her field of expertise is Accounting and Financial Statements Analysis. From 2016 until today she is responsible for the finance center at UET Consulting and then at UET Enterprise, dealing with several projects undertaken by this center. Mrs. Salt has been responsible for the Group of Accounting and Financial Reporting in the Department of Finance and Economics of the Faculty of Economics, UET since 4 years since 2013. Also for two years is a methodological evaluation for the UET School of Medicine. In 2008-2009 he was involved in a project for SPI Albania project focusing on Capital Adequacy for Commercial Banks. During 2007 – 2008 Ms. Kripa has been assistant at the Department of Informatics at the Faculty of Economics of the University of Rome 3, Italy. During 2006 – 2007 Ms. Kripa worked with an insurance company in Italy "Alleanza Assicurazioni".

Evisi Kopliku
Director of Integration Department at the Ministry of Tourism and Environment
Evisi Kopliku is the Director of Integration, Coordination, Assistance and Agreements Department at the Ministry of Tourism and Environment. She is an adjunct lecturer of Financial Management at the Faculty of Economics, University of Tirana and adjunct lecturer of Financial Management at the University of New York Tirana.
Ms Kopliku graduated from the Banking and Finance Department in Eastern Mediterranean University in Northern Cyprus. She completed the Master studies in Banking and Finance in the same University and completed the Master studies for European Economics (with a specialization in European Economic Integration and Business) at the College of Europe in Bruges, Belgium.
She has completed a 6-month training with a focus on Foreign Direct Investment Policies in Albania and a 6-month training on "Economic Zones" by the Center for International Cooperation (CID) at the Harvard University; and trainings on Foreign Direct Investment and Export skills and capacity building in Japan.
Evisi has been a teaching and research assistant at the department of Banking and Finance at Eastern Mediterranean University and continued as a lecturer in the fields of Finance, Accounting and European Economics at the University of New York in Tirana and University 'Marin Barleti" in Tirana.
She has been working as a policy researcher at European Movement Albania (a think-tank) focusing on Foreign Direct Investment, Competition Policy, Corporate Governance, employment policies and role of the private sector, SMEs etc. Evisi has been working shortly for the European Economic and Social Committee in Brussels in the finance and budget, and later audit department.
During 2013-2016, Ms Kopliku worked as the economic advisor to the Minister of Economic Development, Tourism, Trade and Entrepreneurship, with a focus mainly on foreign direct investments, entrepreneurship support, women entrepreneurship support, SME policies, economic cooperation and European integration; and afterwards as the Director of European Integration and Projects at the same Ministry, focusing on projects involving SMEs. During this position, she has been at the same time the national coordinator for COSME programme (a programme focusing on supporting SMEs). She has also been a national coordinator for the Small Business Act (SBA) for Europe (2014-2017) implemented by the OECD and continues to offer her contribution in the "green SMEs" indicator of SBA, as part of the new position at the Ministry of Tourism and Environment.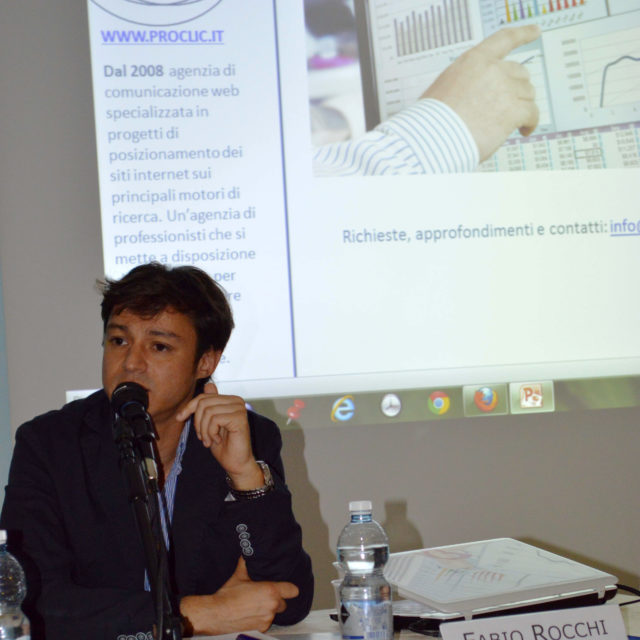 Fabio Rocchi
After graduating and specializing in communication, he worked in some advertising agencies in Florence, his city. In 2008 he founded the agency Proclic Webmarketing, specialized in positioning search engine websites. Today he works and lives in Tirana. Together with the ItalianAlbanian team of Proclic, he manages the online communication on behalf of 84 companies.

Gregor Jänin
Profil
Dipl.-Ing. (FH) Gregor Jänin, MSc, ENP is an Information and Communication Technology Engineer, who has recently worked as an independent expert. Gregor Jänin has been working for twelve years as a manager in the field of public safety services, responsible for extending operations nationwide.
Mr. Janin has worked on projects for the Ministry of Interior of Albania, Crisis Management Center in the Republic of Macedonia and the Republic of Armenia, Emergency Services for Lower Austria, the Police Forces of the Emirates of Dubai and the Kingdom of Saudi Arabia, SouthCom 9 -1-1 Dispatch Illinois (US) and the Vietnam Fire Department.
As Certified Emergency Lines (NENA), Certified Emergency Dispatcher and ED-Q (Priority Dispatcher), External Qualified Quality and Risk Auditor for Alarm Receiving Centers and Managers Certified Project (IPMA-C ), served for many years as chairman of the operations commission EENA 112 as a member of the NG 1-1-2 Working Group, a member of the International Emergency Management Association and active at the Emergency Services Coordination Workshop. He has published the Master Thesis for the implementation of the Legacy Network Gateway to the Emergency Services IP Network (IP) Network and sets out the prospect of accessing new IP Points of IP (Public Safety Answering Points) and has led a study on the Passage of Public Security Coordination Structures towards a Service Oriented Architecture, focusing on the process definition and optimization of 112.

Ingrid Konomi
Ingrid Konomi has been graduated from the Faculty of Economics, University of Tirana (2005). She has completed Master's degree studies offered in collaboration with the University of Tirana and Bamberg University over The European Economic Studies (2007). She is currently a doctor of economic sciences awarded by the Faculty of Economics, University of Tirana (2016).
 During her professional career, she has worked in important positions as Head of Finance-Banking Department at the Faculty of Economics at Albanian University (2010-2012); Dean of the Faculty of Economics at Albanian University (2012-2013); Lecturer at the Faculty of Economics at Skenderbej Military University (2005-2010); Part-time Pedagogue at the Faculty of Economics at the University of Tirana since 2005; Lecturer at the Faculty of Economics at Albanian University since 2006. Financial Expert at TAP – Expropriation Project (2015-2017).
 Ingrid Konomi has conducted some trainings and specializations internally and internationally for the purpose of professional and academic improvement in relevant fields. She has participated in many national and international conferences and symposiums in the field of economics and finance, contributing to her scientific work in improving academic thinking, adding arguments on economic discussions in academic and professional circles. Her field of expertise mainly affects financial and commercial policies for transition economies, the process of transformation and structural reorganization of the Albanian economy, economic theories and development models, policies and strategies of international institutions, financial markets, monetary policies and banks. She is the author of several scientific articles at home and abroad, in the university press and in various magazines.
Ingrid Konomi is an important voice in academic circles offering her professionalism in projects, discussions, various forums on the economy.

Rafaela Rica
Founder and CEO with over 17 years' experience in the management of the PR and communication agency, Iceberg Communication Ltd in Albania. Ms Rica has had continuous assignments in the field of communication, public relations and event management and seasonal decorations  since 1998, managing various projects in the field of marketing, Communication and Public Relations including development and implementation of numerous information & communication campaigns: organising over 200 public events, seminars, conferences, trainings, trade fairs, study tours, team building activities, production of publications and promotional materials, etc. Thus communication activities have been important aspects of her professional assignments throughout the past 17 years.

Teuta Strazimiri
Profil
Ms Strazimiri was born on February 19th, 1960, in Tirana, in an intellectual family characterized by patriotic traditions. She completed "Sami Frasheri" High School with a CGPA of 10.00 and studied Economics and Industry at the University of Tirana, graduating with a CGPA of 8.90. Her father was a technical director in Albanian Telecom and later Technical Director at the Albanian Radio Television, which impacted Teuta with the telecommunications notions since early childhood.
In 1983, she started working as a statistics specialist in the Telecommunications sector and later, as a Chief of Programming in the Tirana Branch of Telecom.
In April 1995, Ms Strazimiri started working as a Chief Economist in the project of the Unit for Implementation of Mobile phones in Albania (later called AMC).
In her rich career, dedicated to telecommunications and in the field of business administration, Teuta was one of the first contributors to the first start-up operator GSM in Albania (AMC 1995). Her contribution was focused on market research, strategic and operational direction and market monitoring of the Industry of Telecommunications, including landline, mobile and IPTV.
The main milestones in her career are as following:
·         Chief of Operational Marketing Sector ( April 95- May 98)

·         Chief of Fraud Prevention Sector (February 01- October 02)

·         Chief of Information Management System (October 02 – October 11)

·         Chief of Marketing Intelligence Sector (October 11- August 15)
In 2014, she has been accepted as an expert of the Group on for Monitoring Indicators in the Telecommunications (EGTI) in the International Telecommunications Union (ITU/ICT). Since august 2015, Ms Strazimiri has been working as a freelance economist.